Non-Profit of the Week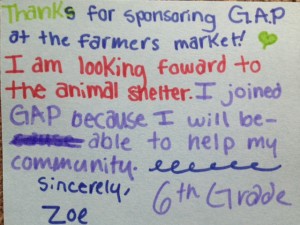 By shopping at the market you are supporting local area growers and fresh food vendors as well as contributing to worthwhile causes in our community. Instead of charging Farmers Market Vendors to sell on the Town Square each Saturday, they donate 10% of their weekly revenues to the featured Non-Profit of the Week.
Organizations with 5013C status apply each year via a competitive grant application process. Selections are based on locality, service achieved in our town and state and their ability to promote their featured weekend at the Farmers Market. Collaboration between local organizations and Market Vendors that graciously donate a significant amount of gross sales each week help strengthen our local economy and community, not to mention that is brings everyone together!
The Jackson Hole Farmers Market on Town Square has contributed a total more than $300,000 to area non-profit organizations since its inception in 2000.
---
2015 featured Non-Profits of the Week: 
July 11 – Off Square Theatre Company
July 18 – Jackson Hole Kayak Club
July 25 – Hole Food Rescue
August 1 – The Cougar Fund
August 8 – Jackson Hole Public Art
August 15 – Womentum
August 22 – Rotary Supper Club of Jackson Hole
August 29 – Teton County Search & Rescue
September 5 – Jackson Hole Horse Rescue
September 12- The Farmers Market will be moved to Broadway in collaboration with Old Bill's Fun Run! (no Non-Profit of the Week)
September 19 – Jackson Hole Childcare Helpers
September 26- At the Community Fall Festival we celebrate all participants of the Farmers Market and at 10:30am each of this year's Non-Profits of the Week will be presented with their donations raised this year!
---